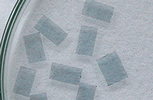 Projection Pattern (For capacity reasons we stop the production of samples. Only the goods in stock are sold off.)
Test patterns (Fischer sample) for scanning probe microscopy. The projection patterns can be used for resolution control (in a range from 220 nm to 990 nm) and lateral calibration.
Monolayers of hexagonal closely packed latex spheres, deposited on suitable substrates, are used as a mask for physical vapour deposition.
Typical applications:
NSOM/SNOM (Near-field Scanning Optical Microscopes)
AFM (Atomic Force Microscopes)
SEM/TEM (Scanning Electron Microscopes / Transmission Electron Microscopes)
Light microscopes
Specifications:
Substrates: Glass (0.15 mm thick)
Material for vapour deposition: Al, Au, Cr
Diameter of the latex spheres: usually 505 nm
Al standard sample (sample size about 7 mm x 4 mm)
Projection Pattern in available stock
Delivery: Approx. 2 weeks ARO.


| | | |
| --- | --- | --- |
| AL 230 | Availability in stock: 20 | |
| AL 356 | Availability in stock: 14 | |
| AL 453 | Availability in stock: 19 | |
| AL 510 | Availability in stock: 15 | |
| AL 990 | Availability in stock: 0 | |
| AL 1238 | Availability in stock: 10 | |
| AU 356 | Availability in stock: 7 | |
| AU 453 | Availability in stock: 9 | |
| AU 505 | Availability in stock: 0 | |
| AU 990 | Availability in stock: 20 | |
| Chrom 230 | Availability in stock: 3 | |
| Chrom 453 | Availability in stock: 2 | |